If you want to prank or make fun of your friends, then there is a fantastic method to make them astonished with spam call sign-up. There are a lot of methods to sign someone up for spam phone calls. But I am giving you easy and most popular methods to prank someone special for you and spread happiness with them. Learn how to sign up phone number for spam calls and texts with quick and easy methods, including telemarketing sign-up, Posting ads online, and using websites for Spam calls and texts.  
Make sure this information is only for educational purposes, and I'm not responsible if you are using it for any illegal activity.
How to Sign up Phone Number for Spam Calls and Texts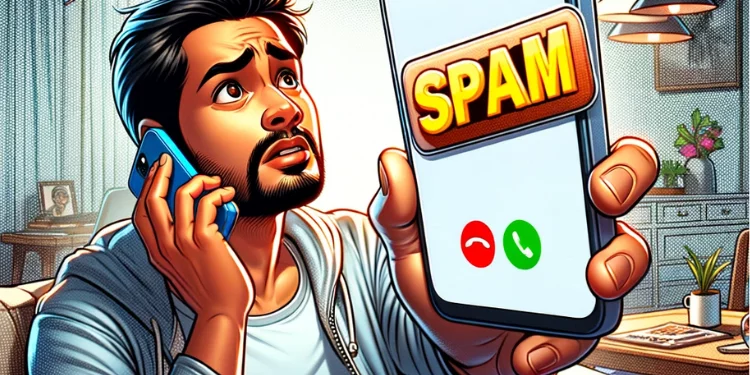 Without any delay, I am going to share with you four detailed methods to sign someone up for spam calls. Be patient; it's prank time, so enjoy every step by following these methods.
1. Sign Up for Telemarketing Calls
You need to post a phone number on Facebook, Twitter, or Instagram's telemarketing pages. You can also dial 800, 888, or 900 from your friend's phone for telemarketer sign-up.
Once you contact any of them, the system stores your number, and after that, telemarketing calls will start. Some free product and service trials demand a valid email and phone number, and you can add that number.
They'll undoubtedly keep calling to say you didn't win, but you can take advantage of other offers. This category includes online surveys, where you provide your number to numerous companies to receive Telemarketing calls quickly.
2. Post an ad online to Spam a Phone Number
This is another shocking way to get spam calls on your phone fast. You'll get a lot of scam calls if you post your phone number on a dating site.
Also, If you post an ad on Facebook marketplace, craigslist, eBay, Temu, or Amazon with a fantastic deal or a trendy service or product that many people want, you should get a lot of calls quickly.
3. Online Surveys and Forms Registration For Spam Calls Sign Up
For many reasons, like gathering feedback, registering for an event, or conducting market research, filling out online surveys and forms might be perfectly acceptable and even expected.
If you post that number on websites like gambling deals and charity support or any other, they will get spam calls.
4. How to Sign Someone Up for Spam Calls using Websites
The most excellent method that is always in your hands is to disturb your friends with calls and bulk text messages using websites.
You can use these websites by investing a low amount of money to have fun with your friends. Below, I mentioned some of the popular websites in detail.
SendRandomFacts.com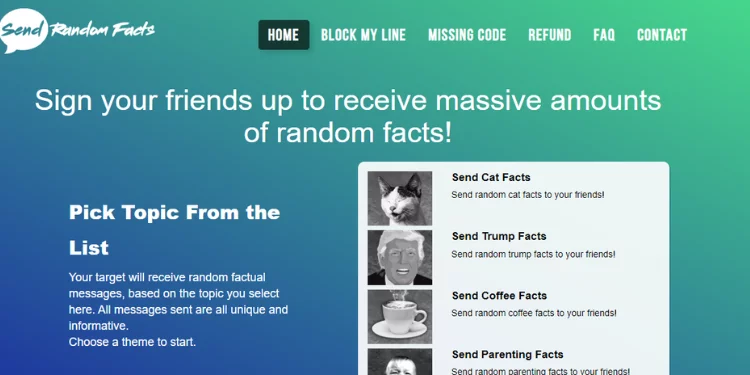 SendRandomFacts.com lets users send themed text messages to friends for a fun prank. This platform's user-friendly interface allows users to choose from text prank themes and send up to 100 texts to a target within a set time.
Key Features
Customize text pranks using a variety of themes to tailor messages to friends.
Up to 100 diverse messages keep recipients guessing on the platform.
Notify the target of a prank promptly, allowing them to stop it at any time.
The website limits users to one prank per day for each targeted phone number to discourage overuse and promote responsible use.
The service focuses on entertainment and is designed for fun and amusement.
Users should use moderation and get permission from the pranked person to keep the experience fun.
The service charges a set rate of 6¢ per SMS plus a processing fee.
Fees cover hosting, PayPal, Stripe, and phone line rentals.
The platform offers a "STOP" tool for users to stop pranks by answering with the designated keyword.
Blowupthephone.com (Sign up for spam calls)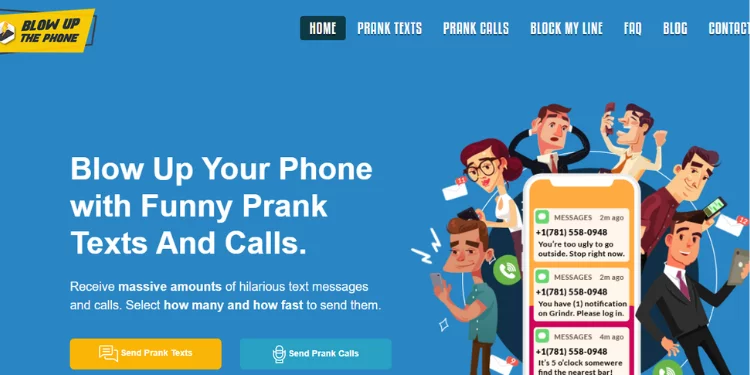 Blowupthephone.com lets users prank friends with humorous texts and calls. The site offers two main pranks: texts and calls, each with its capabilities.
Prank Texts
Up to 100 prank text messages with pre-written jokes can be sent to friends.
Texts from several phone numbers cover various humorous topics.
Prank calls
Prank calls are made to the provided number using a different number each time.
The recipient hears a user-selected prank recording when they respond, and replies can be heard after the call (where legal).
Key Features
The site restricts users to one prank per number every day to discourage overuse.
A $2.99 minimum charge applies to per call.
The maximum prank cost for a single number is $7.75 for 100 SMS.
Responsible use, no harassment, and discretionary consent for pranks are promoted on the platform.
Hosting, PayPal, Stripe, and phone line rents are covered by the fees, according to the service.
MessageBomber.com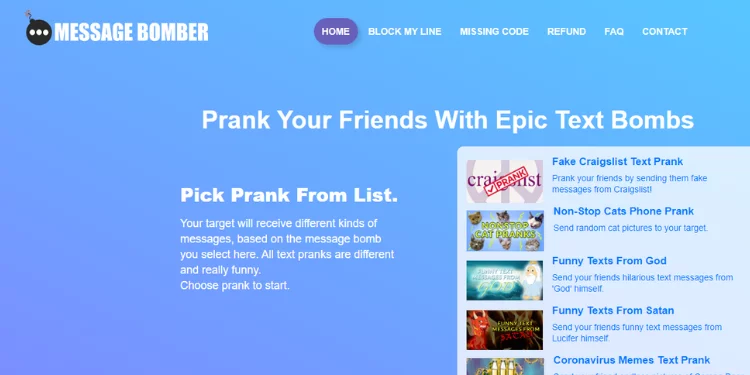 MessageBomber.com is a popular prank messaging service that makes friends laugh. This application lets users send theme-based text messages to the destination, making it amusing and enjoyable. 
Key Features
Users can choose from several themed text pranks for a personalized and entertaining experience.
By providing up to 100 messages within a user-defined time range, the service surprises.
The program limits users to one prank each day for each phone number to maintain balance and respect.
The platform promotes pranks for enjoyment only.
An explicit notice invites users to get authorization from those being pranked, highlighting a commitment against harassment.
Users pay a set rate of 6¢ per SMS and a 50¢ processing fee.
Only $6.50 can be spent pranking one number.
Fees cover hosting, PayPal, Stripe, and phone line rentals.
FAQs
How to spam a phone number on Android? 
Various apps on the Android platform allow you to sign up your phone number for spam calls and texts.
How do I get spam from calling my phone? 
You can use call-blocking apps or enable features on your phone to prevent spam calls from reaching your device.
Does the iPhone have a spam call blocker? 
Yes, the iPhone has a built-in spam call blocker feature that can help block unwanted calls.
How to get a phone number for free? 
Some online services and apps provide free phone numbers for temporary or limited use.
How to avoid unwanted calls?
You can avoid unwanted calls by utilizing call-blocking features on your phone, registering your number on the Do Not Call Registry, and being cautious about sharing your phone number with unknown sources.
Conclusion
People have creative ways to prank their friends and family, but one of the worst is giving their phone details to telemarketers and prank sites so they may spam their phones with texts and calls.
It would be best if you acted responsibly after receiving this information. I hope you found what you needed.