If you've ever explored the vast universe of online shopping websites, you've probably stumbled upon two intriguing stars in the e-commerce galaxy: Temu vs Wish. At first glance, they might seem like distant twins, offering unbelievable deals and a treasure trove of products. Discover the e-commerce universe with a twist! Is Wish and Temu the same? Uncover the surprising differences and similarities in online retail stars and hold on to your shopping carts because we're about to journey to uncover the cosmic differences and unique characteristics that set these platforms apart. Let's dive in and find out!
Is Wish and Temu the Same?
No, Wish and Temu are not the same. Both are e-commerce platforms with a broad selection of discounted products, but their pricing, target audience, user experience, and business methods differ. Online shoppers must compare these differences to make informed purchases.
Temu vs Wish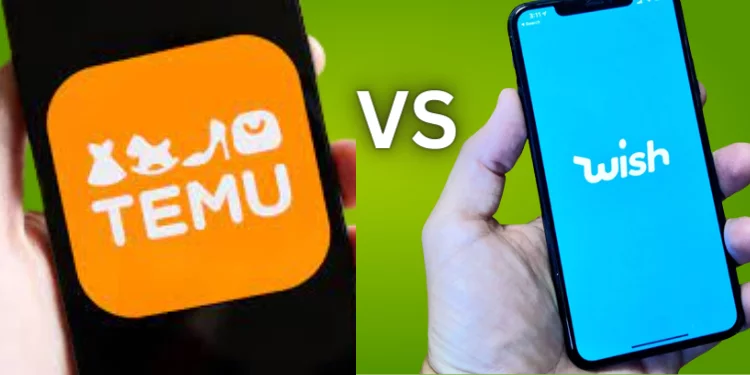 In the battle of budget-friendly e-commerce giants, Temu and Wish take center stage. But which one deserves a spot in your digital shopping cart? We compare Temu and Wish, breaking down the differences to help you shop smarter.
1. Pricing Strategy:
Temu: Temu is known for its low prices, often offering products at even lower rates than Wish. This is due to its direct connection with a network of manufacturers in China, allowing it to provide highly competitive pricing. Temu's discounts can be substantial; even single-item purchases often come with significant savings.
Wish: Wish is also renowned for its affordability, offering products at prices that are typically 80% to 90% lower than their original market value. While they don't require a specific minimum order quantity, they encourage larger purchases for even more significant discounts.
2. Target Audience and Market Reach:
Temu: Temu initially targeted the US market but has been expanding its global reach. It appeals primarily to younger demographics seeking trendy items at budget-friendly prices.
Wish: Wish has a broader global presence and caters to customers from various age groups and income levels. It offers a wide range of products, making it suitable for a diverse audience looking for discounted products across different categories.
3. User Experience and Interface:
Temu: Temu offers a user-friendly experience with categorized sections that make it easy for shoppers to navigate different product categories. Discounts are displayed, helping customers make informed choices.
Wish: While Wish's interface is user-friendly, it presents products under broad categories without distinct subsections. However, users can utilize the search bar to find specific items.
4. Marketing Strategy:
Temu: Temu has been aggressive in its online marketing strategy, quickly gaining millions of downloads just six months after its launch. It leverages social media channels and influencer collaborations for promotions and interactive content.
Wish: Wish also has a solid social media presence and employs influencer collaborations and campaigns to engage with customers. Its popularity has endured through the decades.
5. Sales, Discounts, and Freebies:
Temu: Temu offers discounts based on current market prices and provides a buyer guarantee, including 90 days of protection. Their pricing system allows customers to enjoy inexpensive prices for bulk purchases and single-item orders.
Wish: Wish offers all its products at significantly discounted prices, often between 80% and 90% off the original price. They frequently run flash sales and limited-time discounts to create a sense of urgency and excitement among customers.
6. Customer Satisfaction:
Temu: Temu has a mixed customer satisfaction rating on platforms like Trustpilot, with some customers praising the low-priced products and timely deliveries, while others criticize it for poor-quality clothing and unresponsive customer support.
Wish: Wish generally has a higher customer satisfaction rating on Trustpilot, with many satisfied customers applauding the retailer for its discounts, easy return policy, timely deliveries, and responsive customer service.
7. Business Models:
Temu: Temu offers generous discounts to attract new customers and connects shoppers with Chinese manufacturers, allowing for heavily discounted prices. They also have a program for Campus Ambassadors and Influencers to earn commissions and enjoy exclusive benefits.
Wish: Wish is a mediator between sellers and customers, connecting them through its platform. It focuses on a mobile-first approach and personalized recommendations to enhance the shopping experience.
8. Product Variety:
Temu: Temu offers an extensive range of cute and quirky items, including handmade and manufactured products, plus-size clothing, and unique products from Chinese suppliers.
Wish: Wish's product offerings focus more on functional everyday items.
9. Product Quality:
Temu: Product quality in Temu can vary since it sources items from numerous Chinese-based suppliers. Customers are advised to read item descriptions and check feedback from other buyers.
Wish: Wish has established a longstanding reputation for delivering higher-quality products over its years in business, making it easier to gauge quality than other platforms.
10. Shipping and Delivery: 
Temu: Temu offers Free Standard Shipping on most orders and Express Shipping for orders above a certain threshold. Delivery times typically range from 8 to 25 business days.
 Wish: Wish usually processes and ships orders within seven days. Shipping fees vary based on the seller's location and delivery destination, and they offer a money-back guarantee for orders that get delivered after the due date.
While Temu and Wish offer attractive deals and various products, they have distinct pricing strategies, target audiences, and user experiences.
Choosing between them depends on your shopping preferences, whether you prioritize affordability, product variety, or other factors. Considering these differences is essential to make the best decision for your online shopping needs.
FAQs
How is Temu different from Wish? 
Temu often offers lower prices than Wish, mainly due to its direct connection with Chinese manufacturers, making it a go-to choice for budget-conscious shoppers seeking affordable fashion.
Who is Temu owned by? 
Temu is owned by a Chinese company called PDD Holdings.
Is it safe to buy from Wish? 
While Wish is a legitimate platform, product quality can vary. It's essential to read reviews and product descriptions carefully before purchasing.
Which app is similar to Wish? 
Apps like AliExpress and Banggood offer similar discounted shopping experiences with various products.
Is Wish legit? 
Wish is a legal e-commerce platform with millions of users. However, product quality and shipping times vary, so buy carefully.
Conclusion
Temu and Wish are two distinct players in the world of online shopping. While both offer budget-friendly options and vast products, Temu often takes the lead in affordability, whereas Wish is known for its global reach and discounted prices. So, after exploring their differences, do you need more clarification about Are Wish and Temu the Same?