Streaming services are now a usual way for us to have fun. Philo offers many TV channels and on-demand video at an inexpensive price. Learn how to get Philo app on LG smart TV hassle-free. This guide provides simple steps and compatibility information to let you relax and watch your favorite shows.
What is the Philo App?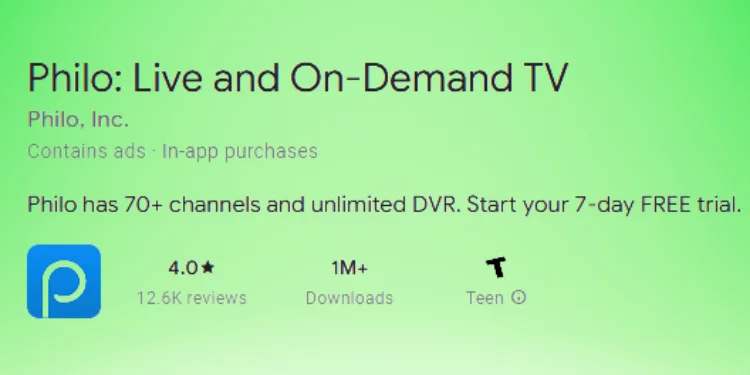 Philo, a popular streaming service, offers over 60 channels, including live TV and on-demand. Its low price and top networks like MTV, Discovery, and Comedy Central set it apart. Philo lets you watch live TV and record your favorite episodes and movies.
What is the LG Smart TV?
LG Electronics makes smart TVs that let you access apps and services from your TV. These TVs can stream internet material and display cable or satellite TV. LG Smart TVs use webOS and are available in several sizes, making them easy to use for streaming.
Compatibility of Philo App with LG TV
Philo currently works well on LG TVs running webOS 3.5 or later.
Press your LG remote control's "Settings" button to enter the TV's settings menu.
Select "General." from the settings menu to access general settings. The LG Smart TV's main settings are here.
Locate and pick the "About This TV" option. This section usually describes your TV.
The "About This TV" section contains operating system information. LG TVs running webOS 3.5 or higher can use the Philo app.
Relax if your TV doesn't have the required webOS version. There are ways to play Philo on different devices. The Philo app may work with your TV's operating system as technology advances.
How to Get Philo App on LG Smart TV?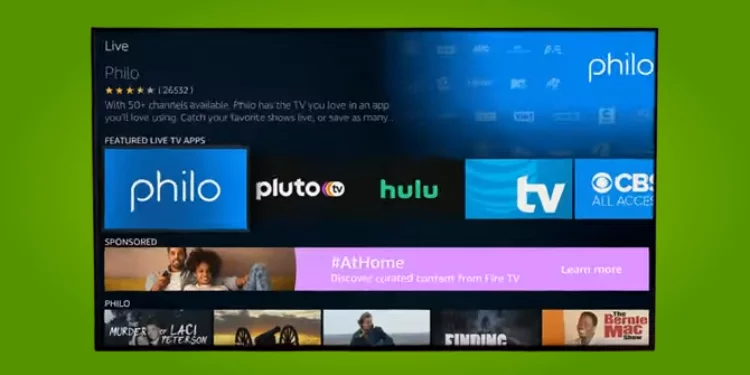 After much anticipation, here's how to install Philo on your LG Smart TV. Follow these simple steps to enjoy Philo's entertainment quickly.
Method 1: Using LG Content Store
To power up your LG Smart TV, switch it on and connect it to the internet.
Use your remote like an LG Smart TV app store to access the LG Content Store.
To search for Philo, type 'Philo' in the search bar and press enter. Find the Philo app in the search results.
Philo app details are available by clicking its icon. Click 'Install' and let magic happen.
After installation, run the Philo app. Sign in or register with Philo to log in.
Method 2: Using the Web Browser
Start your LG Smart TV browser. The app menu generally has it.
Enter 'philo.com' into the browser's address bar. Philo's webpage will open.
Log in or register if you have a Philo account. If not, make an account.
Log in to stream your favorite shows from your web browser.
Method 3: Using Chromecast
Ensure the Chromecast device is linked to the LG Smart TV.
Launch Philo on your phone or tablet to stream a video.
Locate the Cast Icon in the Philo app and tap it. Choose your LG Smart TV from the list.
Watch your Philo stream on your LG Smart TV for a significant screen experience. Relax and watch the show on the large screen.
Method 4: Using HDMI Cable
Use the TV remote to choose your device's HDMI port to change input sources.
Launch Philo on your device and begin streaming via the app or website.
LG Smart TV mirrors Philo content. Enjoy movies on your couch.
Method 5: Using Roku or Amazon Fire Stick
Connect Roku or Fire Stick to your LG Smart TV.
To install the Philo app on Roku or Fire Stick, search and install it in the app stores.
To begin streaming, log in with your Philo account after installation and explore various channels and shows.
Benefits of the Philo App
After adding Philo to your LG Smart TV, let's discuss why this streaming service is revolutionary.
Affordability: Philo is an affordable alternative to traditional cable TV, offering several channels without high monthly rates.
Extensive Channel Lineup: Enjoy various channels, including lifestyle, entertainment, news, and sports.
Unlimited DVR: Philo offers an unlimited DVR option for easy recording and viewing of your favorite episodes.
Simultaneous Streaming: Philo enables simultaneous streaming on several devices, allowing family members to enjoy their favorite content.
User-Friendly Interface: The Philo app's user-friendly interface improves navigation and streaming experience.
FAQs
Is Philo free on smart TV?
Philo has a 7-day free trial. To access its material after that, a subscription is necessary.
Does Google TV have a Philo app?
Philo lacks Google TV native support. Casting or similar devices are other options.
Can I put the Philo app on my LG TV?
If your LG Smart TV runs webOS 3.5 or higher, you can install Philo. Check TV compatibility and install.
How do I update my LG TV?
To update LG TV, go to Settings > General > About This TV. Install software updates using the on-screen instructions.
Why is there no Philo app on my LG TV?
Philo requires LG TVs with webOS 3.5 or higher. Try other devices to watch Philo on TV if none works.
Conclusion
The Philo app on LG Smart TV expands entertainment options. Philo offers live TV and on-demand video. Ready to download Philo on LG Smart TV?